Trash to cash: Norway leads the way in turning waste into energy
Helen Russell | guardian.co.uk, Friday 14 June 2013 15.17 BST
For a country blessed with bountiful oil supplies, it may appear incongruous. But Norway is importing as much rubbish as it can get its hands on, in an effort to generate more energy by burning waste in vast incinerators.

The Eurotrash business may sound like an unpromising enterprise, but it's one that is increasingly profitable. The UK paid to send 45,000 tonnes of household waste from Bristol and Leeds to Norway between October 2012 and April this year. "Waste has become a commodity," says Pål Spillum, head of waste recovery at the Climate and Pollution Agency in Norway. "There is a big European market for this, so much so that the Norwegians are accepting rubbish from other countries to feed the incinerator."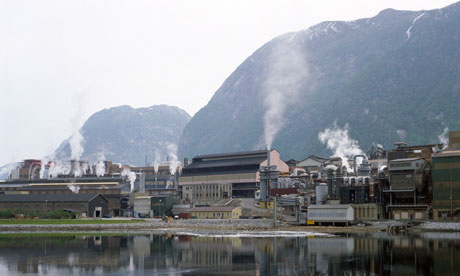 He refuses to divulge the sums involved, saying only that the market is growing. Spillum is "considering requests" to burn waste from other UK towns. "As a rule we generate about 50% of our income from the fee we receive to take the waste and about 50% from the sale of the energy we create," he says.

Norway is not alone. Waste to energy has become a preferred method of rubbish disposal in the EU, and there are now 420 plants in Europeequipped to provide heat and electricity to more than 20 million people. Germany ranks top in terms of importing rubbish, ahead of Sweden, Belgium and the Netherlands. But it's Norway that boasts the largest share of waste to energy in district heat production, according to Danish government-funded State of Green.

Oslo's waste incinerator was built with extra capacity to cater for future growth. "With more and more countries in Europe moving away from using landfill, we assume that there will be growth in waste to energy," says Christoffer Back Vestli, communications adviser for the Oslo municipality. "At the moment, the city of Oslo can take 410,000 tonnes of waste a year and we import 45,000 tonnes from the UK. Europe as a whole currently dumps 150m tonnes of waste in landfills every year, so there is clearly great potential in using waste for energy."

Spillum adds: "It is cheaper [for some UK towns] to pay for us to take their waste than to pay landfill fees."
Comment by Anumakonda Jagadeesh


Waste disposal is a problem in many countries. This type of solution is most welcome.